Do you want to learn your wedding dance in the easiest and most comfortable way?
know our wedding dance first lessons online and you will be surprised
Wedding Dance Company is the first platform dedicated exclusively to Wedding Dances online.
You can count on the best professionals with more than 14 years of experience in the field of Wedding Dances, to guide you and make you feel comfortable dancing in front of your family and guests.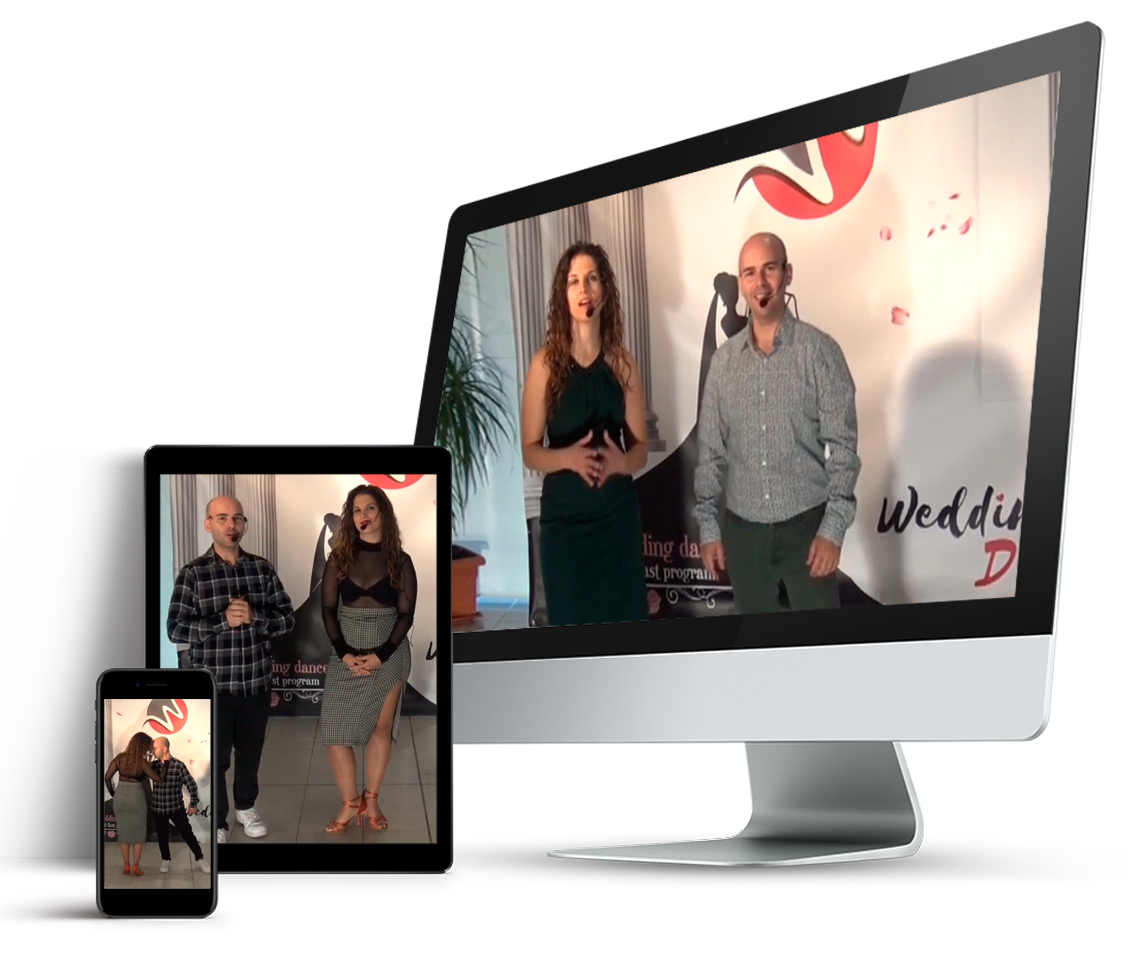 Our method leaves its mark
Knowing that the work we do leaves its mark on each couple's heart on their most special day is the greatest satisfaction we can have when doing our Bridal Dance courses
Enjoy your wedding and give yourself the pleasure of dancing as if you have been doing it all your life and all thanks to these great professionals. Just let yourself go and it doesn't matter if you know how to dance or not, they make the difficult seem easy and the easy is thrown away. So do not hesitate and put themselves in their hands so that your wedding is 10. We are delighted to have done it with them. We recommend it 100%.
⭐⭐⭐⭐⭐
Jose and Angeles are excellent professionals … they get so involved that it is impossible not to have a magical wedding dance prepared. Our time was very limited and this option did not convince us at first and yet afterwards we were totally surprised at what they are involved with. We would repeat with them without a doubt. Highly recommended … Thank you very much always!
⭐⭐⭐⭐⭐
Very professional! We loved the treatment received, very close and above all very competent. My partner did not want to dance and nevertheless afterwards the guests were surprised since he had never danced. We had a very cool wedding dance thanks to them, I recommend it 100%.
⭐⭐⭐⭐⭐
Hello, we are your Bridal Dance teachers
Learn the first ideal dance
We are a pioneer in online wedding dance classes in the world. Yes, we give you the possibility to learn the style of dance you want, for your wedding night and from your own home.
You will have a personalized follow-up by our teachers and we will adapt to the schedule that best suits the bride and groom.
In addition, our videos are designed and adapted to the personality of each couple. In this way, you will learn to dance as a couple without the need for them to be experts or have any knowledge of this type of activity.
On the other hand, if the couple wants a particular style of dance, we offer personalized and special classes, so that they can carry out movements, which will undoubtedly surprise the guests.
In short, we offer you to take bridal dance classes from your home, choosing the style and type of dance you prefer, and with a personalized follow-up.
The experience has made us perfect our method of teaching day by day, always finding the most appropriate and easy way to learn to dance for your wedding day in a simple way.
You can manage your classes at the time that best suits you.
Your course will be available 24 hours a day, 365 days a year.
And the best … without the need to move !!
Our courses are easily adapted to any level
Our videos are designed to be adapted to the personality of each couple, so we have created a method that you will learn in an easy and comfortable way.
Also with our tips you can give an original and exclusive touch to your dance.
Articles of Interest for Wedding Dances
In this section we show you the latest articles related to Bridal Dances, articles of interest and useful information for Couples who want to do their Bridal Dance.
Father and daughter wedding danceIt doesn't matter if you are the youngest or the oldest of your sisters, every good father loves his daughters equally, and for many women, from the time they are little to the time they are teenagers, the idea of a wedding fills them...